whoo!! I'm seeing The Conterfeit Stones
in Rochester Castle Gardens in less that a week!!EEK!
I've not seen them before but have heard they are good good good!!
I saw Blondie & The Stranglers in the Castle Gardens a few years back and that was ace, only I lost all the photos when my last P.C decided to DIE!! :(
as this month of July is the 40th anniversary of Brian Jones' death
here is a little pic!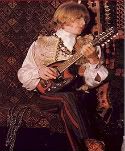 Lewis Brian Hopkin Jones (28 February 1942 – 3 July 1969)


I'll let you know how good they were for sure
heres their website http://www.thecounterfeitstones.net/
and I'll get some photos of the band and us girlies dressed up like Marianne or Anita :)
p.s Follow my friend, shes a fab chick!!
Turn on Tune in Drop out